FAQ: School Nutrition
Thanks for learning about our award-winning Buncombe County Schools Nutrition (BCSN) efforts! Did you know that we're the largest food provider in Western North Carolina, and that we regularly team up with local farmers throughout the year to bring fresh options to our tables?

Promoting healthy, active kids is what we do and our experienced staff are ready to answer your questions about nutritious and delicious school meals. Here are a few of the most common questions we receive.

Looking for more? Don't hesitate to reach out to your school's nutrition manager or follow us on Facebook!
---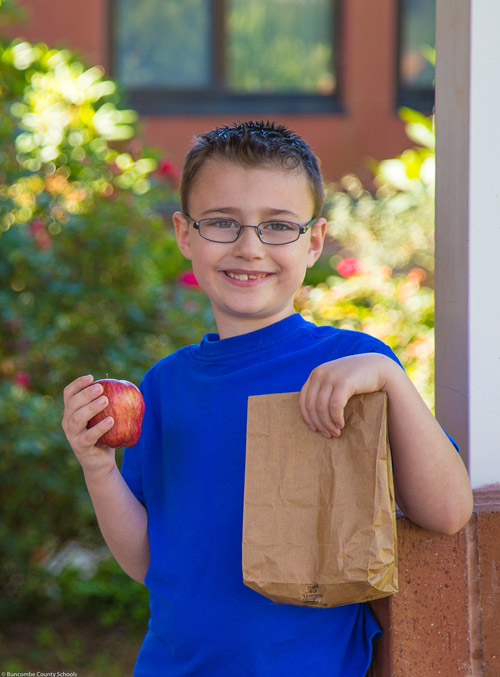 Who sets the guidelines that School Nutrition follows when menu planning?
Buncombe County Schools Nutrition (BCSN) meal planning is a group effort made by local experts and the community, including registered dietitians, school nutrition managers, students, industry members and our director of school nutrition. Our team observes the federal Healthy, Hunger-Free Kids Act to ensure students make wise meal choices that complement the nutrition curriculum taught in the classroom, ensuring that they are healthy, active, and ready to learn.

The strict federal nutrition standards are based on the latest nutrition science by the Institute of Medicine and the USDA's Dietary Guidelines for Americans. Highlights of these nutrition standards include:

• Reduced calories based on the grade of the students (grades K-5, grades 6-8, and grades 9-12).
• Reduced meat and meat alternates (protein) portions for grades K-5.
• Increased fruits and vegetables with a NEW requirement: Students MUST select one serving of vegetable or fruit with lunch.
• Limited number of servings of whole-grain–rich breads and cereals.
• Choice of fat-free flavored or unflavored milk, or 1% low-fat flavored or unflavored milk.
• Focus on reduced saturated fats and sodium, and zero trans fats.
Our team works to not only meet federal requirements but to offer increasingly nutritious options. We modify our recipes, taking care to limit sodium and sugar, and eliminate trans fats.

For example, foods such as chicken tenders and pizza served in our schools are specified to contain limited amounts of fat, sodium, and sugar, and are richer in nutrients than similar items sold in fast food restaurants.

To reflect USDA MyPlate recommendations, breads, pizza crusts, breakfast cereals, and other breads are made of whole-grain wheat, and a variety of fresh fruits and vegetables are offered on menus. Learn more about menu planning and meal pattern requirements through childnutrition.ncpublicschools.gov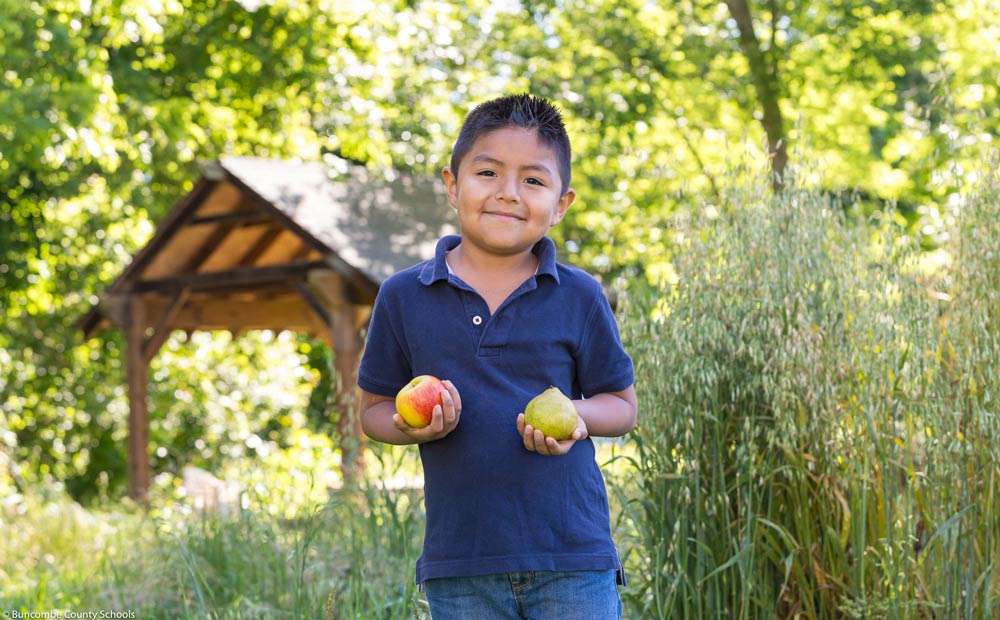 Do our schools utilize local farms and produce?
Yes! We value our partners in the community and work with many vendors in Western North Carolina to secure locally grown foods. It is our aim to promote healthy eating by securing fresh local fruits, vegetables, and meat when possible. We also seek to promote environmental stewardship through the continual reduction of waste.

Can parents limit their child's a la carte purchases?
The a la carte option is popular with many families, but some wish to set limits for their children based on personal preferences or needs. Parents can request that their school nutrition manager add a message to their student's account to prevent the student from purchasing a la carte. Information on our managers can be found under the Contact Us section.

Please note that all a la carte items meet the federal nutritional value standards based on the Healthier US School Challenge specific nutrients per serving. All offerings are Smart Snack Compliant.

Are menus and nutrition information available to parents?
Yes! It's easy to view our menus, ingredients, and nutrition information online!

Offer Vs. Serve (OVS) is implemented in BCSN. What does that mean for my student?
Offer vs. Serve is a concept that applies to menu planning and meal service. OVS allows students to decline some of the food offered in a reimbursable meal. The goals of OVS are to reduce food waste and to permit students to choose foods they want to eat. More information is available through the USDA.

How do I put money on my child's lunch account?
Adding funds to your child's account is simple! We'll also let you know with an automated call when your child's account needs to be refilled. Our unpaid Meal Charge Procedures varies by age group and can be found at Nutrition.BuncombeSchools.org under the Meals section.

• Pay Online through k12paymentcenter.com
• We Accept Checks – Write a check to "(child's school name) - Buncombe County Schools Nutrition" and bring the check to the school nutrition manager's office. A local address and phone number are required to be printed or handwritten on the check. The student name and Power School Number or UID are required on the check memo line. Parents who want their checks for cafeteria use only should write "Cafeteria Funds" on their check.
• We Accept Cash – Cash may be brought to the food service manager's office for deposit on student's account, or students may pay cash on a daily basis.

Why do adults pay more for the meals than the students?
No federal or state subsidy is received for adult-purchased lunches, breakfasts, or a la carte items. The adult price charged must cover the full cost unless local tax money or income from other sources is used to subsidize it. USDA guidelines state that adults are required to pay at least the price paid by the children plus the value of USDA donated foods and federal and state reimbursement.

Does BCSN have a Wellness Policy?
"The board is committed to providing a school environment that promotes student wellness, proper nutrition, nutrition education and regular physical activity as part of the total learning experience." – Excerpt: BCS Board Policy 6140

In compliance with federal law 108-265, Child Nutrition and Women, Infants, and Children (WIC) Reauthorization Act of 2004, the Buncombe County School Board established a Wellness Policy for Buncombe County Schools (BCS) that promotes student health and contributes to the reduction of childhood obesity. The components of the local wellness policy include nutrition education, physical education, nutrition guidelines for all foods available during the school day, and other activities that promote student wellness. The Wellness Policy, with reference to Board Policies 6140 and 6140R, are available at nutrition.BuncombeSchools.org under Operations.

How can I get involved?
• Like us on Facebook for an inside look: We're @BuncombeNutrition.
• Give us your feedback at our BCS School Health Advisory Council meetings. Email [email protected] for an invitation.
• Eat school lunch with your student! Come see our clean, welcoming facilities and meet our experienced, friendly staff!
• Meet your cafeteria's school nutrition manager! They are a wealth of culinary and health information.
• Join the national School Nutrition Association at: www.schoolnutrition.org.